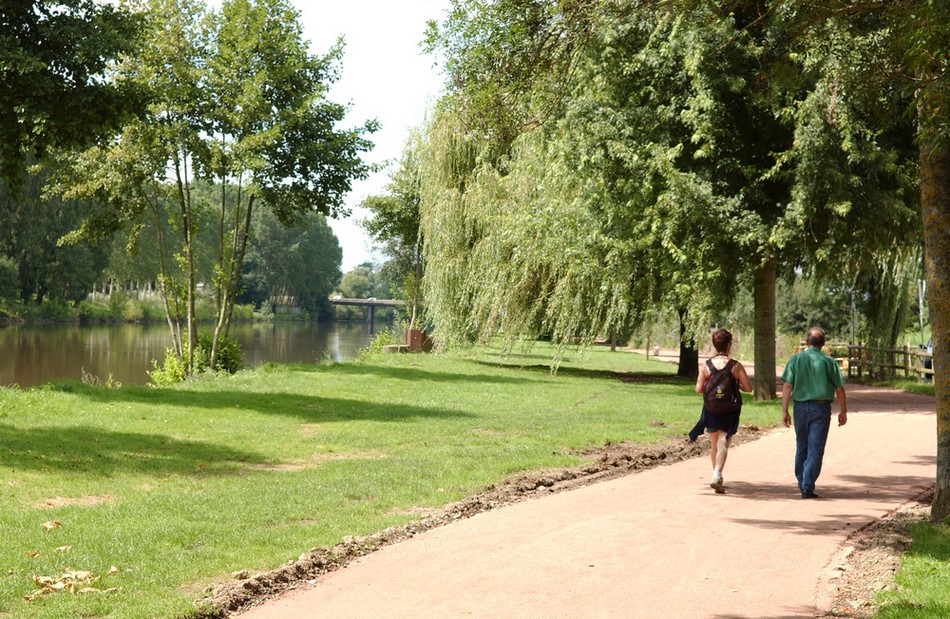 Numerous hiking trails allow you to discover Le Mans country, its historical remains, its parks, its rivers, its farmland and forests. Marked trails allow hikes of several hours across the city and the sunken roads of the city.
Near Le Mans, many hiking trails are available at the Arche de la Nature.
Find them on the interactive map of the Ark of Nature. Le Mans Métropole and the Departmental Committee of hiking with the help of IGN, published a map at 1 / 35,000th "Discovering paths." (It is available at the Tourist Office: € 1.50).
You will find there a good idea of walk: The trail of remarkable trees of the Arche de la Nature

Whether you are a seasoned Sunday walker or walker who appreciate the intense effort ... by foot, horseback or bike, around Le Mans, or on marked trails of the department of Sarthe, happiness, pleasure and health are synonymous with hiking . Along a tow path on an old railway line, over the water, turning a wood in the heart of the forest Rocked or hillside in the Alpes Mancelles, many trails marked crisscross the Sarthe.
About the Country of Le Mans and the other countries of the Sarthe, download the PDF of the different walking or cycling routes on: www.sportsdenature-sarthe.com

Sarthe cycling is more than 400 km of marked out routes between Normandy and the Loire Valley to discover the diversity of landscapes of the Sarthe. The route V44 Le Mans-Alençon-Sable-La Flèche Sarthe along the river in the heart of a rich cultural and historical heritage. In the south, walk along the bike Loir valley between vineyards, castles and preserved nature. Two variants complement the discovery and enjoyment of the department and offer the possibility of a loop to the north by the country Saosnois and south by the forest of Rocked.
NEW: Discover bike routes Sarthe on: http://www.francevelotourisme.com/base-1/troncons/itineraires-de-la-sarthe-a-velo
The Tourist Office offers many walking guides on sale at the reception. Educate yourself! Just ask !