Placed in the region Pays de la Loire, the department of Sarthe is the door of the French West.
It is a space of transition between the Loire valley, Brittany and the Parisian Region.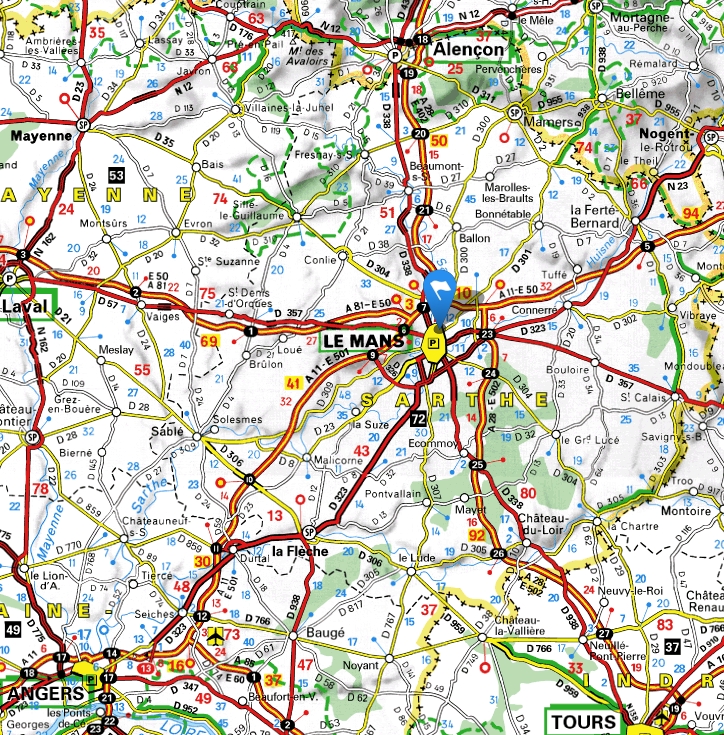 (Extract http://www.viamichelin.fr)
A green setting, La Sarthe is proud to be the most wooded destination in western France. It has 5000 km of marked trails open to all styles of hiking, 4000 km of rivers and streams for recreation along the water and landscapes of great diversity where flourish all sports practices.
Rich forests such as the forests of Bercé or Perseigne, beautiful wildlife parks such as the Zoo de la Flèche and recreation like Papéa Park, the Sarthe is a great adventure playground for all the family, to discover urgent!
The department of Sarthe has an important architectural and cultural heritage. A large number of museums, sites or castles will satisfy lovers of history and art. Discover the historical and natural sites of the region: the Château du Lude, the Château de Courtanvaux, the Dungeon of Ballon, ...
Let's tell you about the country of art and history like the Perche Sarthois, the Valley of the Loir, ... The small cities of characters, like Fresnay on Sarthe, Brûlon, Montmirail, Vivoin ... but also the cities like Sablé, La Ferté Bernard, La Flèche, Mamers, ...
Curious, you will not hesitate to discover some ancestral know-how as pottery, earthenware with the Museum of Earthenware and Ceramics or the Art Faïenceries of Bourg-Joly in Malicorne ...
To learn more about tourism in Sarthe, click here.

Download the tourist map of Sarthe by clicking here.