Le Mans, city of shootings, with its unique architectural heritage, is a kind of privileged homeland of the cinema. The historic center "La Cité Plantagenêt" receive natural decorations which look just like treasures and people living in Le Mans reserves to the film-makers a unique reception.
Find the film "Le Mans, la marque du cinéma en Cité Plantagenêt"

Pierre Arditi asserts that " when we turn in Le Mans, we have this incredible sensation that the whole city does not beat more than at the rate of the heart of those who come " tell the world " at their home. "

Were turned there: "Que la fête commence" in 1975, of Bertrand Tavernier, with Jean Rochefort, Philippe Noiret and Jean-Pierre Marielle, "Le beau mariage" in 1981, with Arielle Dombasle and André Dussolier; "Rouget le Braconnier" of Gilles Cousin in 1989, with Jean-Michel Noiret; "Dames Galantes" of Jean-Charles Tacchella in 1990, with Richard Bohringer and Isabella Rossellini; "Cyrano de Bergerac" de Jean-Paul" Rappeneau, in 1990, with Gérard Depardieu, Anne Brochet and Jacques Weber; "Eugénie Grandet" of Jean-Daniel Verhaegue in 1993, with Jean Carmet.

In 1997, it is "Le Bossu" (The Hunchback) of Philippe de Broca with Daniel Auteuil, Fabrice Luchini eand Vincent Pérez; "L'Homme au Masque de Fer" (The Man in the Iron Mask) of Randall Wallace, in 1998 with Gérard Depardieu, John Malkowich, Jeremy Irons and Leonardo Di Caprio...
Last years, movies's making follow each other : in 2004, "Julie, chevalier de Maupin" of Charlotte Brändstörm with Pierre Arditi and Sarah Biasini ; in 2005, "D'Artagnan et les Trois Mousquetaires", of Pierre Aknine, with Vincent Elbaz and Emmanuelle Béart, then in 2006 "Molière" of Laurent Tirard with Romain Duris, Fabrice Luchini… and "Jean de la Fontaine, le défi" of Daniel Vigne with Philippe Torreton and Lorànt Deutsch…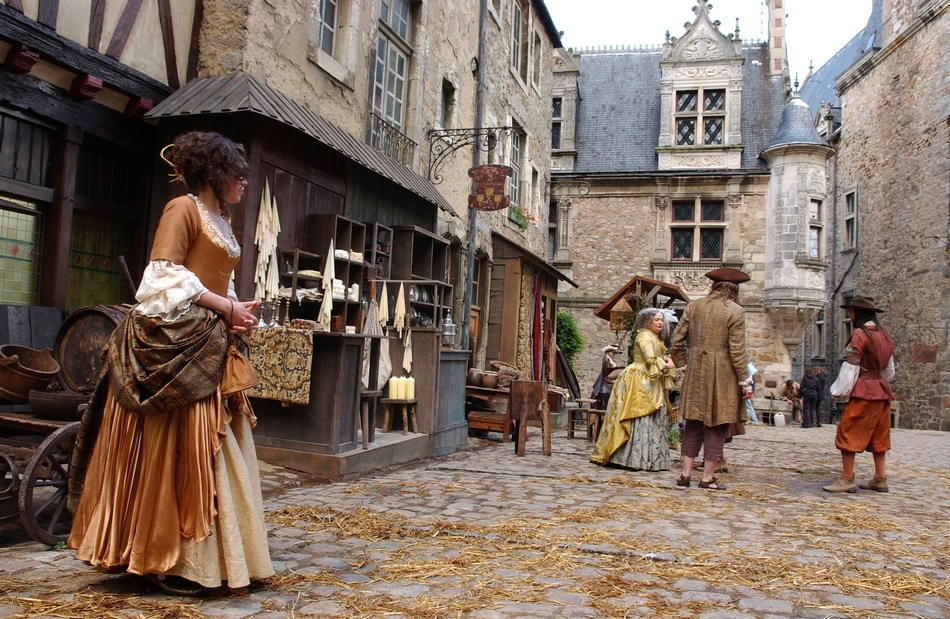 And finally in 2007, 2008 and 2009, " L'assasinat d'Henri IV ", " La Maison du Chat-qui-pelote ", " La Cagnotte" (the kitty).
5 episodes of "Nicolas Le Floch", Jean-François Parot were turned for the TV between 2008 and 2012, with Jérome Robart and François Caron. Two new episodes were turned in May, 2014...

We also turned outside Cité Plantagenêt.
In 1997, Eric Rochant realizes "Vive la République" (Long live the Republic). Then in 2000, the crime(murder) of the Sisters Papin is told in the movie "Les Blessures assassines", of Jean-Pierre Denis, turned in particular in 40 street Joinville, with Sylvie Testud and Julie-Marie Parmentier.

The circuit of Le Mans 24 hours is also chosen :
In 1970, the movie "Le Mans" with SteveMac Queen " and the adaptation of the BD "Michel Vaillant" by Luc Besson in 2003.