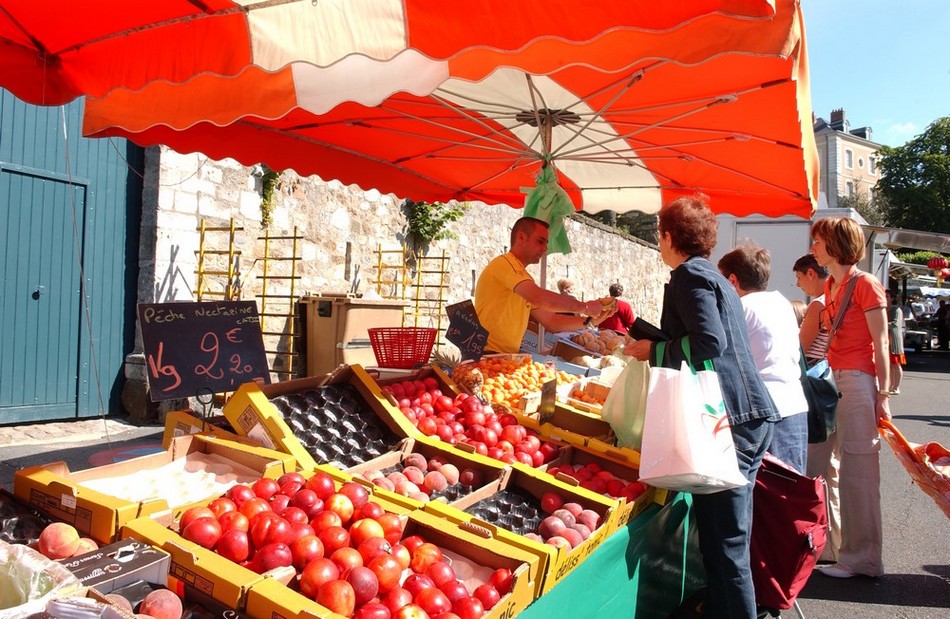 For a long time, in Sarthe , people came from far away to the markets of the Jacobins or Pontlieue, while the appointment of Sablons is increasingly popular. You should also know that the flea market of the Jacobins, on Friday morning, included in national calenders. They often replace the missing shops and constitute a real local service.

You need more information about markets ?
Call the News Service instead of rights +33 (0)2 43 47 38 22, from Monday to Friday, from 8.30am to 12am and from 1.30pm to 5pm.


tuesday
Place Édouard de la Boussinière (unpacking and food) : from 7.00am to 12.30
am
Cité des Maillets (unpacking and food) : from 7.00am to 12.30am
wednesday
Place du Jet d'Eau - Jacobins (unpacking) : from 7.00am to 12.30
am
Avenue de Paderborn - Jacobins (food) : from 7.00am to 12.30am
Place Henri Vaillant (unpacking and food) : from 7.00am to 12.30am
thursday
Parvis de la Gare Sud (unpacking and food) : from 4.00pm to 8.00pm
Cité des Sablons (unpacking and food) : from 7.00am to 12.30am
Rue du Docteur Leroy (food) : de 4.00pm to 8.00pm
friday
Place Washington (food) : from 7.00am to 12.30am
Avenue de Paderborn (food) : from 7.00am to 12.30am
Place du Jet d'Eau (unpacking and food) : from 7.00am to 12.30am
Place des Jacobins (unpacking) : from 7.00am to 5.30pm
Gazonfier shopping center (food): from 4.00 to 7.00pm
Saturday
Cité des Pins (unpacking and food) : from 7.00am to 12.30am
Pâtis Saint-Lazare (unpacking and food) : from 7.30am to 12.30am
Rue Hippolyte Lecornué (food) : from 7.00am to 12.30
am
La Butte, avenue Bollée (food) : from 7.00 to 12.30am
Là Visitation - 1, rue Gambetta (food) : every twwo weeks from 4.00pm to 08.00pm (private initiative)
sunday
Place du Jet d'Eau (unpacking) : from 7.00am to 12.30am
Avenue de Paderborn (food) : from 7.00am to 12.30am
Place Henri Vaillant - Pontlieue (unpacking and food) : from 7.00am to 12.30
am